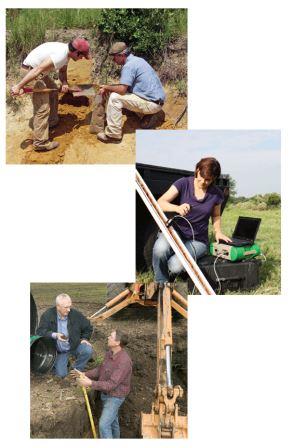 Certified Professional Soil Scientist
Certification defines the profession through standards. These standards describe the knowledge, skills and conduct that clients, employers and government agencies can use to identify appropriate professionals. SSSA's Certified Professional Soil Scientist (CPSS) certification program sets and maintains the high standards that benefit you and your clients in your chosen career. It begins with a Bachelor's Degree with 5 years of soils experience and having at least 15.0 semester credits of soils coursework.
NEW in 2017--Certified Soil Technician
This certification is for those who do some work in soil science but do not meet the full requirements for certification as CPSS. It begins with an Associate's Degree with 3 years of experience and having at least 7.0 semester credits of soils coursework.  This certification is not offered in states with soil science licensing programs (including Illinois).
Benefits of Certification
Earning certification brings you credibility, opportunity, motivation, ability, and validation. As a professional working in soil science, you care as much about serving your clients as you do about furthering your career. The CPSS or CST certification provides you with the tools you need to succeed in both areas.
Who should be certified?
An individual whose education, experience and career path is in some aspect of the soil science profession and can meet the standards of the program, including:
Soil science practitioners
Educators and extension specialists
Soil science researchers
Government and academic scientists
Soil scientists working in environmental, natural resource, or agronomic management companies
Anyone required by the state to be certified as a CPSS or Certified Professional Soil Classifier (CPSC) when doing soil science work for land use evaluation (eg. septic systems or agricultural managment plans).
Interested in learning more about certification? Feel free to contact our office. 
Steps to Certification:
---
The following table provides an overview of the requirements for certification:
 

Exam to Pass

Education

Experience

Certified Professional Soil Scientist (CPSS)

Fundamentals of Soil Science

Minimum BS degree in Soils or related area (15.0 semester credits)

5 yrs post BS or 

3 yrs MS/PhD

Associate Professional Soil Scientist (APSS)

Fundamentals of Soil Science

Minimum BS degree in Soils or related area (15.0 semester credits)

Not needed/Experience gained post degree

Certified Soil Technician (CST)

Fundamentals of Soil Science

Minimum Associate's degree in Soils or related area (7.0 semester credits

3 yrs post AS, 2 yrs post BS/MS/PhD

The following steps detail the necessary items to complete to become certified as APSS, CPSS, or CST:
Once Certified:  CPSS individuals earn 30 hours of continuing education (CEUs) every two years, and CST individuals earn 25 hours of CEUs. APSS, CPSS, and CST all pay an annual maintenance fee. 
Please keep in mind that University degrees and transcripts must be in English and based on the United States educational standard. If you need assistance in the translation process, you may use Educational Credential Evaluators, Inc. or World Education Services
Licensing State Information:
---
All successful certification programs have one common element and that is to serve and protect the public interest. Many professions require a license to practice such as in medicine, engineering, and accounting. A license is basically a certification program offered by the state. If a profession is licensed, it is generally required that a person have a license to practice in that profession.
Some states that have licensure programs use the Fundamentals and Professional Practice exams.  These states include Maine, Minnesota, New Hampshire, North Carolina, North Dakota, South Carolina, Tennessee, Texas, Virginia, and Wisconsin. If you are taking the Professional Practice exam for licensure only, you do not have to pre-apply using the certification application.  You should, however, check with your state licensure contact if there are special registering instructions, applications, etc.
Steps to Creating Licensure Programs:
---
The Soil Science Society of America (SSSA) with help from licensed soil scientists is working to get soil science licensing established in various states.