The broad scope of soil science provides SSSA with the opportunity to connect on many levels with a wide group of organizations. These opportunities include developing cooperative relationships, exhibiting at other conferences, partnering on K-12 activities to reach out to teachers and students, taking a lead role in the International Year of Soils in 2015, and developing campaigns such as our I "Heart" Soils campaign in conjunction with SSSA's 75th Anniversary in 2011. Take a look at what SSSA is doing to fulfill its mission of advancing soils as fundamental to life!
International Year of Soils 2015
---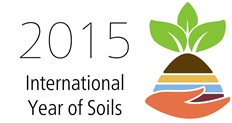 The United Nations General Assembly has declared 2015 as the International Year of Soils - SSSA celebrated this historic year with an award-wining campaign!  An extensive program of activities for outreach was developed and can be viewed at www.soils.org/IYS. 
 
Meeting Participation
---

Attending other soils-related conferences? Chances are that SSSA will be exhibiting, sponsoring programming, or have a unique presence.
Dig It! The Secrets of Soil exhibition
---

"Dig it! The Secrets of Soil," of which SSSA is the founding sponsor, is a 4000-square foot exhibition revealing the complex world of soil and how this underfoot ecosystem supports nearly every form of life.  Originally developed by and displayed at the Smithsonian Institution's National Museum of Natural History, it is now hosted at various museums around the U.S. Learn more about the current exhibit location on our Dig It! webpage

Cooperating Societies
---

SSSA recognizes the many organizations that have connections to the world of soils and soil science. View our Cooperating Societies.

I "Heart" Soil
---

The "I Heart Soil" outreach campaign was produced as part of the Soil Science Society of America's 75th Anniversary to increase awareness of the importance of soils and soil science. If you would like to receive a broadcast quality dub of these PSAs, please contact us. A poster is available for download here. View all of the stickers available (in 14 languages) here.