Congressional Soils Caucus Alliance
---
The purpose of the Congressional Soils Caucus is to educate policymakers and stakeholders about the importance of soils and soil science.
---
Mission
The mission of the Congressional Soils Caucus Alliance (CSCA) is to enhance knowledge and understanding of the role that soil and soil science play in addressing the most pressing issues facing our nation and the world. The CSCA communicates with congressional members and staff through educational briefings on topics selected by Congressional Soils Caucus members, and white papers on key challenges facing agriculture and the environment.
Background
The Congressional Soils Caucus was established in June, 2006 to educate policymakers and stakeholders about the importance of soils and soil science. The CSCA supports the efforts of the Caucus by educating Caucus members on soil conservation and management to ensure continued sustainable production of high-quality and abundant food, fuel, feed and fiber, while protecting and enhancing the environment and natural resources base across the nation.
Philosophy
Soils are essential for all life on earth. Soils are a nonrenewable natural resource linked to plants, water, climate, ecosystems, and human health. Recent increases in human population have placed unprecedented pressure on soil resources. At the same time, there exists a need to expand the fundamental knowledge of soils and develop the practical management technologies needed for sustainable use of soils.
Goals
- Increase appreciation and support in Congress for the importance of soils and soil science through continuing education and timely communication of contemporary issues in soil science.
- Identify and prioritize soil research and education needs critical to advancing soil science and solving problems related to world food security, natural resource and environmental protection, and land use.
- Provide timely information and input to assist in the development of farm bill programs, appropriations bills, and other legislation involving soil research and education priorities.
- Enhance connection and interaction among public and private organizations, federal and state agencies, and stakeholders.
How to Join
CSCA members are individuals and professional scientific and engineering societies, institutions of higher learning, trade associations, and companies. To become a member, please email sciencepolicy@sciencesocieties.org.
Educational Briefings
---
Get information on past educational briefings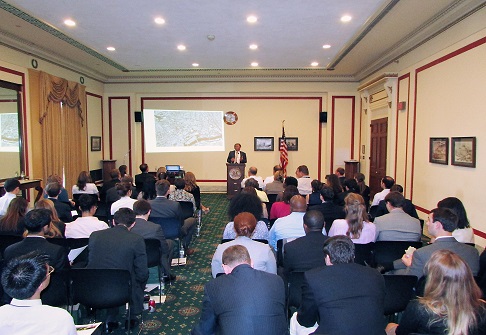 Caucus Members
---
Rep. John Barrow (D, GA-12)
Rep. Rob Bishop (R, UT-1)
Rep. Jo Bonner (R, AL-1)
Rep. Bruce Braley (D, IA-1)
Rep. Paul Broun (R, GA-10)
Rep. Cheri Bustos (D, IL-17)
Rep. G.K. Butterfield (D, NC-1)
Rep. Lois Capps (D, CA-24)
Rep. John Carter (R, TX-31)
Rep. Matt Cartwright (D, PA-17)
Rep. Bill Cassidy (R, LA-6)
Rep. Gerry Connolly (D, VA-11)
Rep. Jim Costa (D, CA-16)
Rep. Kevin Cramer (R, ND-AL)
Rep. Pete DeFazio (D, OR-4)
Rep. Jeff Denham (R, CA-10)
Rep. Renee Ellmers (R, NC-2)
Rep. Jeff Fortenberry (R, NE-1)
Rep. Bob Gibbs (R, OH-7)
Rep. Sam Graves (R, MO-6)
Rep. Michelle Grisham (D, NM-1)
Rep. Richard Hanna (R, NY-22)
Rep. Lynn Jenkins (R, KS-2)
Rep. Walter Jones (R, NC-3)
Rep. Tom Latham (R, IA-3)
Rep. John Lewis (D, GA-5)
Rep. Dave Loebsack (D, IA-2)
Rep. Frank Lucas (R, OK-3)
Rep. Blaine Luetkemeyer (R, MO-3)
Rep. Cynthia Lummis (R, WY-AL)
Rep. Tom McClintock (R, CA-4)
Rep. Gerald McNerney (D, CA-9)
Rep. Jeff Miller (R, FL-1)
Rep. Bill Owens (D, NY-21)
Rep. Collin Peterson (D, MN-7)
Rep. Jared Polis (D, CO-2)
Rep. David Price (D, NC-4)
Rep. Tom Reed (R, NY-23)
Rep. Mike Rogers (R, AL-3)
Rep. Loretta Sanchez (D, CA-46)
Rep. Adrian Smith (R, NE-3)
Rep. Paul Tonko (D, NY-20)
Rep. Tim Walz (MN-1)