Ecosystem Services
---

The Soil Science Society of America (SSSA) holds single-topic conferences that advance the soil science discipline. These focused conferences also provide opportunities to further enhance the SSSA brand and identity.
Soil's Role in Restoring Ecosystem Services
March 6-9, 2014
Sheraton Grand Hotel, Sacramento, CA
Soil Science Society of America meeting supported by Bouyoucos Conferences
abstract Deadlines
Abstract submission deadline: Dec. 1, 2013
Abstract editing deadline: Feb. 4, 2014
SSSA members: $450, Graduate Student Member: $175 after Feb 4, 2014
Nonmembers: $550 after Feb 4, 2014
Conference overview
Soils provide provisioning and regulating ecosystem services relevant to grand challenge areas of: 1) climate change adaptation and mitigation, 2) food and energy security, 3) water protection, 4) biotechnology for human health, 5) ecological sustainability, and 6) slowing of desertification. The purposes of this conference will be to evaluate knowledge strengths and gaps, encourage cross-disciplinary synergies to accelerate new learning, and prioritize research needs.
The conference opens with a Welcome Reception on Thursday, March 6, 6:00pm-8:00pm and ends at 10:30am on Sunday, March 9, 2014. The Soil, Vines and Wine Field Trip is on Sunday, March 9, 10:00am-4:00pm and is available for an additional fee of $70.
View Online Program
Who should attend?
Professional and research scientists, consultants, natural resource managers, postdoctoratal researchers, and graduate students.
Letter of Intended Participation
What will participants gain?
Exposure to and increased understanding of soil ecosystem services in diverse grand challenge areas.
New and/or more focused ideas for high-priority research and education efforts.
Networking with scientists with cross-disciplinary expertise, potentially leading to synergistic collaborations.
Earn Continuing Education Units (CEUs)-- up to 7 Soil and Water CEUs and 5 Professional Development CEUs
View/print the Ecosystem Services Flyer (pdf) to help promote the conference.
Housing is open
Located in the beautifully restored historic Public Market Building and situated in the heart of downtown Sacramento, the Sheraton Grand Hotel sits within blocks of the city's best shopping and restaurants. Rooms have been reserved at a discounted rate of $119 for up to 2 people, $129 for three people and $139 for four people staying in one room. A limited number of rooms are available at the government per diem rate.
Soils, Vines and Wine FIELD TRIP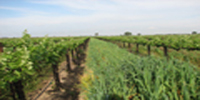 The Lodi Winegrape District is one of the largest wine districts in California with multiple winegrape varieties, and production systems. The District possesses a fascinating mélange of soils that includes a range of landscape age, parent material, and soil characteristics. This variability reflects the presence in the district – and found even within single vineyards – of volcanic, metamorphic, and granitic alluvial landforms. These landforms span ages from modern-day stream deposits to ancient soil landscapes that are among the oldest in the U.S. We will explore viticulture practices, restoration activities, vineyard floor management, nutrient management and the terroir of these landscapes. We plan to visit three sites ranging in landform age from recently deposited floodplain to a 150,000 yr old terrace. The tour will end with wine tasting where we will attempt to compare the wines produced from different soils.
The tour will begin 10:00 am March 9th leaving from the Sheraton Grand Hotel and returns around 4:00 pm. Fee is $70 and includes transportation, lunch and wine tasting. There are a limited number of seats on the bus, so register now!
Organizers
Dr. Mary Stromberger, Colorado State University
Dr. Mary Ann Bruns, The Pennsylvania State University
Dr. Diana Wall, Colorado State University
Dr. Satish Gupta, University of Minnesota
For content information, please contact Mary Stromberger at mary.stromberger@colostate.edu
For general information on the conference, email your contact information to: SRRES@soils.org
CO-Sponsors
Ecological Society of America, U.S. Geological Survey, and American Geophysical Union



Dates & deadlines
---
Abstract Editing Deadline is February 4, 2014
Registration for SSSA members is $450, $175 for Grad Student Members.
Registration for non-members is $550.
Housing: Make your hotel reservation now. Housing deadline is Feb 13, 2014
More information
---
Earn up to 12 CEUs (7 Soil & Water, 5 Professional Development)