Global Soil Security Symposium
---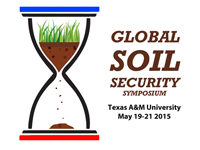 Global Soil Security Symposium
Texas A&M University
May 19-21, 2015

Soil security vital for the health, wealth of the world
Consensus: It's more than just dirt and needs to be protected
Global Soil Security Symposium Report
Final Report
REGISTRATION

• Professional: $395
• Graduate Student/Emeritus: $195
Pick up your name badge and symposium materials at the Welcome Reception on Monday, May 18, 6:00 pm - 8:30 pm in the North/South 40 Room at the Hilton College Station & Conference Center (801 University Drive). It's a short walk for those staying at the Hampton Inn. Just ask the front desk receptionist for directions. This information will be available Tuesday at the Interdisciplinary Life Sciences Building if you're unable to attend the Welcome Reception.
The Symposium will be held on the Texas A&M Campus at the Interdisciplinary Life Sciences (ILS) Building (301 Old Main Drive). Transportation will be provided between the symposium hotels (Hilton College Station & Conference Center and Hampton Inn) and the ILS building. Please see the schedule below.
Shuttle Schedule
Tuesday, May 19
7:20 am Shuttle departs Hotel for the Interdisciplinary Life Science Building (ILSB)
5:00 pm Shuttle departs ILSB to return to the Hotel
Wednesday, May 20
7:20 am shuttle departs Hotel for the ILSB
4:50 pm Shuttle departs ILSB to return to the Hotel
6:00 pm Shuttle departs Hotel for the Memorial Student Center, Gates Ballroom
9:00 pm Shuttle departs the Memorial Student Centre to return to the Hotel
Thursday, May 21
7:20 am shuttle departs Hotel for the ILSB
5:40 pm Shuttle departs ILSB to return to the Hotel
Parking
The closest visitor parking location is University Center Garage (UCG) that is attached the Koldus Building, at the corner of Houston Street and Joe Routt Boulevard, and right across the street from Kyle Field as well as the University Center complex. Maximum daily parking fee is $15.
The ILS Building (301 College Main Street) is a 5-7 minute walk.
Walking Directions
Start out going northeast on Joe Routt Blvd toward Gene Stallings Blvd.
Turn left onto Gene Stallings Blvd.
Turn right onto W Lamar St.
Turn left onto Houston St.
Houston St becomes College Main
Driving Directions & Parking Map (PDF)
View Online Program
View Program (PDF)
HOUSING
Hamplton Inn Single king bed: $119 Two queen beds: $119
979-846-0184; 320 Texas Ave, College Station, 77840
Use Group Code GSS to secure the discounted rate.
Reserve by 5pm on 5/10/2015
LOCAL INFORMATION
College Station offers a multitude of opportunities for entertainment, recreation, shopping, and dining.
Arriving by Air?
Easterwood Airport (CLL) in College Station is serviced by American Airlines (connecting through Dallas/ Fort Worth) and United Airlines (connecting through Houston). Ground Shuttle provides dailyshuttle service between Houston International Airport and Easterwood Airport ($30 one-way with advance reservation, $37 at the airport). The drive is less than two hours. Both the Hilton and Hampton Inn provide complimentary airport shuttle service from Easterwood Airport. Be sure to ask for details when confirming your hotel reservation.
Driving Directions (pdf)
Campus Map (pdf)
Check current local weather in College Station/Bryan
Subtropical and temperate weather means plenty of sunny days, and as the saying goes: "If you don't like the weather, just wait five minutes"! Yes, Texas , but that is outside. Bring a jacket with you to keep you warm in the rooms.
ABSTRACT SUBMISSION
The ability to edit your abstract has passed.
Please contact Stacey Giesen (sgiesen@sciencesocieties.org, 608-268-3975) with any questions.
CONFERENCE OVERVIEW
Soil security requires maintenance and improvement of the soil resource to meet global challenges to produce food, fiber, and fresh water, to contribute to sustainable energy production, adapt to climate changes, and to maintain biodiversity and human health. Those concerned with achieving soil security recognize that attainment involves scientific, economic, and political engagement to effectively and credibly inform political and legal frameworks and implement appropriate actions.
The conference will address five dimensions of soil security.
Capability--the intrinsic capacity of a soil to produce products and ecosystem services;
Condition--the current state of the soil, including modification by human activities;
Capital--economics of soil services to Health, Environment and Food production;
Connectivity--the social connection of soil managers and custodians and users of soil products and services to the soil (and to each other); and
Codification -- Policy frameworks: identification of policies that degrade soil security and those that secure soil.
View Preliminary Program
Give soils their due (Science Magazine article highlighting the importance of soil and the 2015 International Year of Soil.)

FEATURED SPEAKERS INCLUDE
The symposium was sponsored by the OECD Cooperative Research Programme on Biological Resource Management for Sustainable Agricultural Systems, whose financial support made it possible for many of the invited speakers to participate in the Conference.
Chuck Benbrook, Center for Sustaining Agriculture and Natural Resources, Washington State
University
Helaina Black, The James Hutton Institute
Julie Borlaug, The Borlaug Institute
Johan Bouma, Prof. Emeritus Wageningen University
William Buckner, The Samuel R. Noble Foundation
Florence Carré, Industrial Safety and Environmental Protection INERIS
E. Dominati, AgResearch, New Zealand
Damien Field, University of Sydney
Mike Grundy, Research Director at CSIRO, Theme Leader, Landscape Systems and Trends
Wayne Honeycutt, Deputy Chief of Science and Technology, USDA NRCS
Andrea Koch, United States Study Centre
Alex McBratney, University of Sydney
Bruce McCarl, Regents Professor and Distinguished Professor of Agricultural Economics,
Nobel Laureate, Texas A&M University
Rabi Mohtar, Texas A&M University
Jae Yang, Kangwon National University
WHO SHOULD ATTEND?
Experts and innovative thinkers from a range of disciplines including agricultural and resource economics, sociology, information technology, soil science, agronomy, and policy.
Letter of Intended Participation
View/print the Global Soil Security Symposium Flyer (pdf) to help promote the conference.
ORGANIZERS
• Dr. Cristine Morgan, Texas A & M University
• Dr. Alex McBratney, University of Sydney
• Andrea Koch, United States Study Centrex
• Dr. Damien Field, University of Sydney
For more information, please contact Cristine Morgan at cmorgan@ag.tamu.edu