Check out these tasty "soil" themed desserts! (Submit your own to sfisk@sciencesocieties.org with month, photo and recipe!)
January - Soils: What it's all about
Soil Horizon Cake Credit: Geetika Joshi Ph.D., CDFA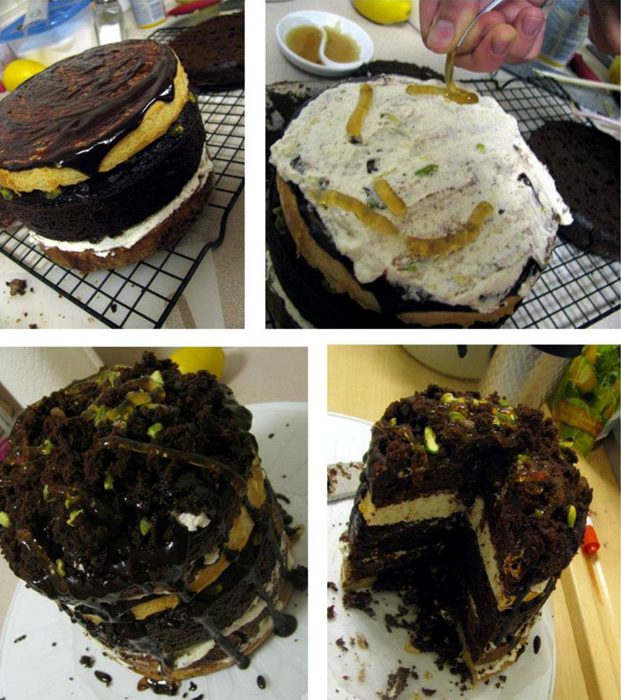 February - Soils support urban living
Flower Pot Dessert
Credit: Sahar Akhavan, Gorgan University of Agricultural Sciences and Natural Resources, Iran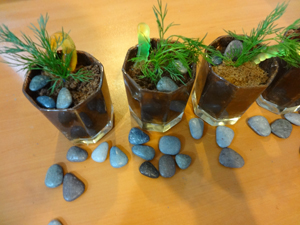 Ingredients

1 whole pound cake (store-bought, frozen)
1 gallon ice cream, your favorite flavor
1 package chocolate sandwich cookies, such as Oreo's
1 package gummy worms
Other Things You'll Need:
8 small clay flower pots, cleaned and dried (lead free)
8 straws
Fresh cut edible flowers, dill or mint
Directions

Slice the pound cake (frozen is fine) into 1- to 1 1/2-inch slices. Next, with a biscuit cutter or cookie cutter that fits the bottom of the flower pot, cut the slices into rounds. (You can put the scraps in a zip-top freezer bag and use them at a later date.)

Into each of your flower pots*, drop a round of pound cake, lightly pressing to make sure they are all the way down. Hold a straw up against the side of a flowerpot and snip it so it's 1/2 to 1 inch shorter than the top. Then, just use that as a guide to cut the rest of the straws. Stick each straw into the center of each pot, anchoring it into the cake.

Now, grab whatever flavor ice cream you'd like to use, and either set it out on the counter to soften it OR nuke it for 20 seconds or so. It needs to be somewhat soft for this step. Just spoon it into the pots, working it around the straw, until it almost reaches the very tip top of the straw. Clean up the top edges of the pot with a damp paper towel. Now return the pots to the freezer until firm.

In a food processor, pulse the cookies until they resemble nice, rich topsoil. (You can also crush them in a zip-top bag with a rolling pin.) When they are nice and firm, take the pots out of the freezer. Place a couple of gummy worms on top of the ice cream, then spoon the dirt (crushed cookies) over the top. Be generous here! Place a fresh flower into the straw and serve immediately.

*To clean the flower pots, scrub with warm soapy water to remove any dirt. Rinse with hot water. Let the pots dry thoroughly (it may take several hours).
March - Soils Support Agriculture
Credit: Sue Ernst, ACSESS staff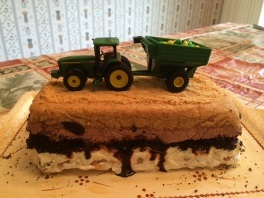 Ingredients
½ cup graham cracker crumbs
¼ cup sugar
1½ T butter, melted
1 pint strawberry ice cream, softened
1 pint chocolate chip ice cream, softened
10 Oreo cookies, crushed
¼ cup hot fudge ice cream topping, warmed
Line a 9 by 5 inch loaf pan with aluminum foil. Combine graham cracker crumbs, sugar, and melted butter in a medium size bowl. Combine with a fork. Press firmly into the foil-lined pan. Spread the strawberry ice cream over the graham crackers. Freeze for about ½ hour. Add a layer of the crushed Oreo cookies. Warm the hot fudge in until it's of pouring consistency; drizzle it over the cookies. Carefully spread the chocolate chip ice cream over the fudge and crushed cookies. Freeze several hours. Use the aluminum foil to pull the ice cream out of the pan, and invert onto a serving plate. Top with a tractor.
Additional ideas… Add green and yellow M&Ms to represent a seeding mix for planting, sprinkle green edible glitter on in rows for a spring/summer scene planting scene. For harvest-time fill the wagon with candy corn. 
May - Soils Support Buildings/Infrastructure
Mountain Mama Mudslide!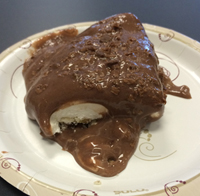 Credit: Meg Ipsen, ACSESS staff
Preheat oven to 350 degrees.
1 stick butter
1 cup flour
1 cup chopped pecans
1 8-oz. pkg. cream cheese
1 cup powdered sugar
1 8- to 9-oz. container whipped topping (i.e., Cool Whip)
1 3- to 4-oz. box EACH chocolate and vanilla pudding
3 1/2 cups COLD milk (pudding will actually set better if you use heavy cream)
1 Hershey bar
Combine butter, flour, and nuts. Mix well. Press into the bottom of a 13x9 pan. Bake for 20 minutes. Cool.
Combine cream cheese, sugar, and the whipped topping. Spread over baked crust. Refrigerate until cold.
Combine puddings with milk. Mix until thick and creamy. (It helps to put the pudding mixture in the refrigerator for a few minutes). Pour over cream cheese mixture. Chill the dessert for several hours or overnight.

Grate the Hershey bar over the pudding layer (it helps to refrigerate the candy bar first—makes it easier to grate.) Chill until ready to serve. Cut into squares.
Construction Cake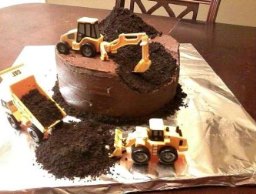 Simply make a cake, using a box mix, and 2 round cake pans.  Frost with your favorite chocolate frosting.  Scoop out a section of cake and crumble for the "soil".  You can also use crushed Oreos if you need more.  Decorate with clean toy construction trucks.
June - Soils support recreation
Dirt Bike Cake
Credit: Sara Uttech, ACSESS staff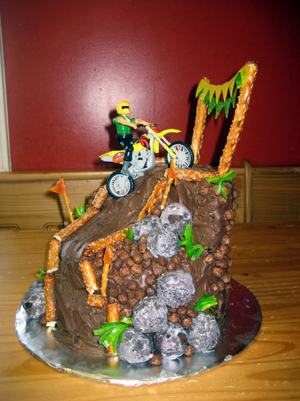 Ingredients:
4 (9-inch round) cakes
3 (16-oz.) cans chocolate frosting
7 straws
Chocolate wafer cookies, crushed
Pretzel rods
Chocolate cereal (we used Cocoa Puffs)
Chocolate doughnut holes
Green licorice
Fruit by the Foot
Thin pretzels
Toy dirt bike and rider

1. Trim the cake tops flat. Cut 1 cake in half, and cut one third from another cake.
2. Assemble the cake as shown, frosting between each layer: Stack the 2 rounds, add the two-thirds section, and insert 3 straws, spacing them about 1-1/2 inches apart. Add 1 cake half (you can save the other for snacking) and insert 2 more straws. Add the cake third and the last 2 straws. Frost the entire cake.
3. Sprinkle on a cookie dirt trail, then add pretzel rods, cereal, doughnut holes, and licorice for log trail borders, rocks, boulders, and plants.
4. To make the finish-line banner, cut 2 pennant strips from Fruit by the Foot and wrap the ends around 2 pretzel rods, pinching them in place. For trail markers, wrap Fruit by the Foot flags around thin pretzels. Push the banner and flags into the cake, then add a toy dirt bike and rider as shown.
July - Soils are Living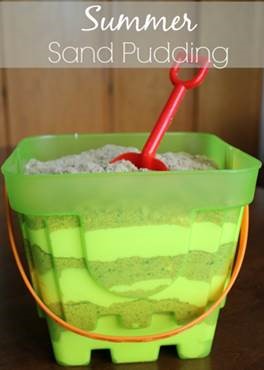 Find the recipe for this here
Dirt Pudding
Credit: Clay Robinson, ACSESS staff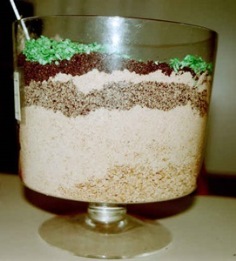 Two different recipe options at:  http://www.doctordirt.org/dirt-pudding
Check out these "research cakes"!