Now that you understand the role of soil in green infrastructure, what can you do to reduce stormwater runoff in your community?
Step 1: Conserve the soil
Like any sustainable strategy, the most important starting point is conservation. Conserving our green spaces and caring for the soil that's already in place is central to creating healthy ground for improved stormwater management. This includes reducing soil compaction and erosion, and promoting soil health. Strategies for improving soil include:
Amending soils with compost
Letting leaves and grass clippings decompose in place to restore soil organic matter
Using compost socks and berms to prevent erosion in areas under construction
Planting trees and native plants in areas where soil is bare
Additional strategies for building healthy soils can be found at www.soilsforsalmon.org.
Step 2: Install a rain garden or other green infrastructure feature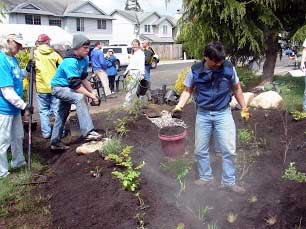 The next step in improving stormwater management in your community is to incorporate green infrastructure, such as rain gardens, in your landscape. Residential rain gardens not only reduce flooding in your neighborhood but can increase property values and are a charming landscape feature. Other green infrastructure tools for reducing runoff include use of rain barrels or cisterns, disconnecting downspouts, and installing green roofs.
In recognition of the value of these tools, many municipalities have developed incentive programs to share the cost of construction. For example, RiverSmart Homes, an incentive program in Washington, DC, provides homeowners with $1,200 towards installing a rain garden or other green infrastructure system on their property. Other communities with incentive programs include:
Step 3: Create a community
The impact of these strategies will be enhanced if they are implemented on a community level. Many of the municipally supported incentive programs are targeted toward neighborhoods where the impacts of green stormwater management will be greatest. Clustering rain gardens in a designated area such as a neighborhood block allows pooling of resources, the potential for shared maintenance, and a greater collective impact on runoff.
Tips for inspiring community stormwater projects:
Communicate! Talk to your neighbors or hold a community event to educate the neighborhood about the issues surrounding stormwater runoff. Such events might include a presentation by a master gardener trained in rain-wise landscaping or just a simple potluck. It sounds obvious but this is a great way to share ideas and find partners.
Collaborate! Once you have identified neighborhood partners, reach out to landscapers, nurseries, and other vendors who might be willing to give you bulk discounts for group projects. Local non-profits or government agencies may also be helpful in getting your project off the ground.
Educate! Post signage in yards or parking strips where projects have been built to bring attention to the economic and environmental values of green infrastructure.
Share! Organize a tour of your rain garden project to inspire other communities to create their own projects.
Next...Additional resources