Organizing the Garden Community
---
The most important step in building a community garden is to assemble a community of people. A community garden without interested gardeners is just a vacant lot.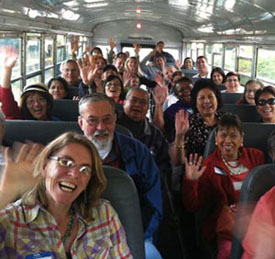 This step can take some time, but it's worth the investment in relationships that will sustain the site long term. It takes a lot of people to build a garden, and there are different roles that people can play—all are welcome and you will need a collection of different skills and resources.
While this is not a comprehensive list, here are some areas where you will need to recruit help:
Early leadership. Starting a community garden can take a lot of meetings, so it's essential to have community members willing to take a leadership role early on. The success of a garden long-term often depends on being able to share leadership with all participants. But in the beginning, it's important to have a small group of committed people who are willing to do the hard work of organizing and getting the project off the ground.
Building the garden. When it comes to the task of building the garden, technical skills are often needed for fence building or toolshed assembly. People with these skills are important for making the garden a reality and may or may not be interested in gardening.
Long-term gardeners. Many people like the idea of having a community garden in the neighborhood but don't intend to garden there themselves. So, make sure you have a healthy list of people who will steward the garden long-term. Oftentimes these people won't be interested in the leadership or community meetings and process needed to get a garden started. But without them, you will have a hard time sustaining a garden.
General community support. It's important to have the support of the local community, even those who don't intend to garden. Neighbors can keep an eye on the site, local businesses can donate food or other resources for work parties, community members can donate art or teaching skills or help haul excess produce to the food bank. Make a list of some local businesses and reach out to them for support, and encourage community members to think of ways they can contribute. After all, a community garden is about a lot more than just gardening.
Finding a community of people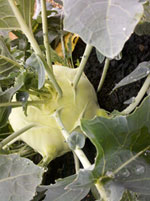 Start by talking to people you know. Ask your neighbors to talk to people they know; ask friends to spread the word. Create a free email account with the name of the neighborhood, so people can contact you without you needing to give out your personal information.
Identify neighborhood groups (churches, neighborhood councils, PTAs) and attend their meetings to let them know what you're doing and that you want them to be involved.
Make flyers and put them up in key places in your neighborhood (coffee shops, intersections). Ask local businesses to inform their employees, and put up a flyer in their place of business.
Take flyers door to door. A personal invitation, even from someone you barely know, is a powerful way to get people involved.
Use social media. If you're comfortable, create a Facebook page for the garden and encourage people to join and start the conversation there.
Organizing the people
Community gardens are incredibly diverse, with different visions and purposes to suit diverse neighborhoods. There is no "right way" to do it, but there are some common issues that groups need to discuss and decide the answers to. The best way is to plan a meeting and discuss important questions face to face. Write down your answers to the questions and then circulate the document, so that all involved can see what's being planned for the garden. It's crucial that as many people as possible feel included in this process.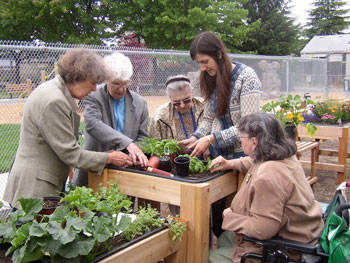 Starter questions. While it's tempting to dive into questions such as where the garden will be located and what it will look like, community groups are strongly encouraged to start with questions about how the garden will be organized. The answer to these questions will assist in making other determinations further down the road. Read a sample list of starter questions (pdf)
Best practices
There are no "right" answers to this: Each group will have different needs and resources. However, there are some practices that are critical for sustained success when working with community groups.
Shared leadership. Often, a strong leader is present who's capable of doing much of what is needed and making many of the decisions. But when you invite people to be involved with a project such as a community garden, you need to invite them into leadership and decision-making processes, too, or they may get frustrated.
Sharing leadership can be challenging, but it's vital for long-term success. Far too many gardens rely on the leadership of a single, committed individual, and these gardens may fail when that person gets tired or needs to attend to other responsibilities. Community gardens also represent an incredible amount of work, so sharing leadership will spread the work and responsibility around. Groups tend to make better decisions when they hear from multiple people, as well.
Transparent decision-making processes. There are many forms of decision-making processes that can work for community groups, but whichever you choose, it must be transparent. When participants feel like decisions are being made in secret, or in some other way that's invisible or inaccessible to them, they may feel frustrated and withdraw from the project.
Conflict resolution procedures. Many groups come to a project such as a garden with excitement and positive feelings about getting to know neighbors, so it can be hard to imagine a time when conflict might arise around a decision. But successful community gardens represent thousands of small and large decisions, so it's inevitable that at some point disagreement will emerge.
Having clearly defined conflict resolution procedures in place can greatly reduce the amount of stress and tension that occurs when a group does run into conflict. Many times these procedures won't be needed, but having them is good insurance that if a group does run into conflict, it won't run the project off the road.
Next...Design a garden