defining the Garden's purpose and management
Ensuring the long-term sustainability of a community garden requires more than just the nuts-and-bolts of vegetable production and soil management. As you get started with the garden planning process, it's necessary to discuss the goals of the garden and plan for enough volunteer and/or financial support to help achieve those goals.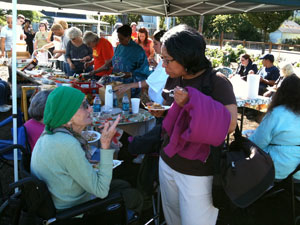 There are about as many good reasons for having a community garden as there are gardeners. For some, it's a chance to meet their neighbors; others are excited about learning to garden; some gardeners want to create a green space to grow healthy food for their neighborhood. (Read about this community's goals here.)
Is the purpose of the community garden to strengthen the community? To maximize fruit and vegetable production? Is there a shared vision for what types of practices will be used to produce the food? Who will primarily be responsible for the day-to-day operations that the garden requires? These are important questions to address as the garden gets underway.
Your group of gardeners doesn't have to agree on just one reason but a discussion should be held, as this will help with many of the design decisions. A garden whose purpose is to maximize the amount of fresh food delivered to the food bank will look very different from a garden designed to foster community interaction. Getting clarification early on in the process ensures the garden "governance" gets off on the right foot.
Another important aspect is the long-term sustainability of the garden. A project whose goals are only the immediate term may be designed differently than one that aims for a longer timeframe.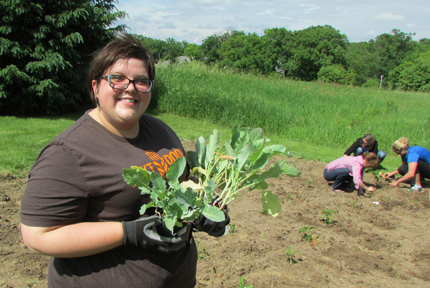 While many may be excited about the thought of fresh produce grown locally and communally, the reality is that garden projects require a lot of work. Preparing plans for who (or what groups) are responsible for what aspects of the garden is critical to do in advance. There will inevitably be hot summer days when no one is particularly excited about pulling weeds, or times when many people are busy or out of town and interest wanes. Successful community garden projects require careful consideration of these governance questions.
community garden structures
One factor to consider in community gardens is the distinction between gardens that are set up more as individual plots or those that are organized more as communal spaces. Individual plots are areas that gardeners rent to do with as they choose. Many choose to grow food for home consumption, with excess given to food banks. Many gardens have at least a portion of their garden in individual plots, and some are entirely that way. Other gardens are designed to have a portion of the space cared for by the entire community. The group works together to maintain the communal plot and shares in the benefits.
Here are several different purposes for communal garden structures: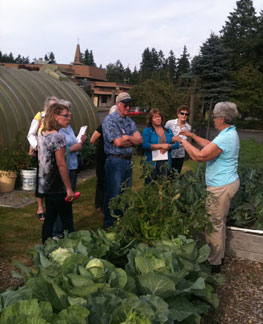 Herb garden
Flower garden
Orchard
Native plant garden
Gathering place
Children's garden
Children's play area
Demonstration garden
Community-run volunteer (take produce as you work model)
Whatever else you like!
SHARED SPACE, shared community
Why plan a communal space in a garden? This type of space can be important to the development of a sense of community within and around the garden. Research has shown that levels of social capital—connection and interaction-- tend to be higher in gardens that reserve some area for communal space. The space can be used for many different activities such as gardening for donation, planting of demonstration gardens, and holding classes or community events. But the key to success is to discuss short and long-term plans for finances and management and ensuring that day-to-day operations will be tended to before expanding into additional activities.
Next...Find a site